What is new at KUFSTEIN unlimited 2018? Austrian sound combined with American rock
As you already know (or will know in a minute) this year's festival will be a colorful one. Both the musical line-up and the artistic performances of the Walking Acts have a lot to offer. The festival summer starts with a surprise for fans of KUFSTEIN unlimited: all concerts will be accessible free of charge. The organizers thereby want to ensure that the loyal visitors don't miss a concert highlight.

In addition, the organizers are sure to continue the success of Zoë and Thomas David's performances in 2017. Great music spread over the entire city center, that's what the KUFSTEIN unlimited visitors expect. In order to meet these requirements, several main acts, performed by nationally and internationally known artists, will appear on the inner city stages.
Vibrant beats from New York, soft sounds and "Goschnrock" from Upper Austria
Many Austrian artists and bands will be represented again this year. Among these artist there is an American singer-songwriter named Ignacio "Iggy" Uriarte, better known as "Lions Head". Not only does he combine vibrant beats with authentic songwriting, but for his modern pop he mixes electronic loops with folky guitars and driving rhythms with catchy songs music. Of course, he will bring his latest single "Golden" along with him.

Rock music is what the guys from "Krautschädl" love most . Their chart-toppers like "Feiah Fonga" or "Khoids Wossa" have become true evergreens. Their current song is "Immer mit da Ruhe". They sing in Upper Austrian dialect, the so-called "Upper Austrian Slang" and are also known under the established genre "Goschnrock".

Softer sounds come from Miriam Hufnagl, also a musician from Upper Austria. At just 12, she wrote her first song in English. In 2016 she released her first album entitled "What If We Never Forget" under her pseudonym "AVEC". Today, she is 21 and will enchant us at KUFSTEIN unlimited with her beautiful voice and her tender guitar sound.
DAWA
With Lions Head, Krautschädl and AVEC, the number of top acts is far from complete. DAWA is still missing. We remember the preliminary vote for the Eurovision Song Contest 2015. DAWA barely missed the participation in the ESC 2015 and were only second behind Makemakes. Their song "Feel Alive", however, hit the Austrian charts for 4 weeks. At KUFSTEIN unlimited they will bring along their new album "(r) e a c h", combing their unique sound with the extraordinary voices of John Michael Dawa and Barbara Wiesinger, with cello sounds and cajon beats.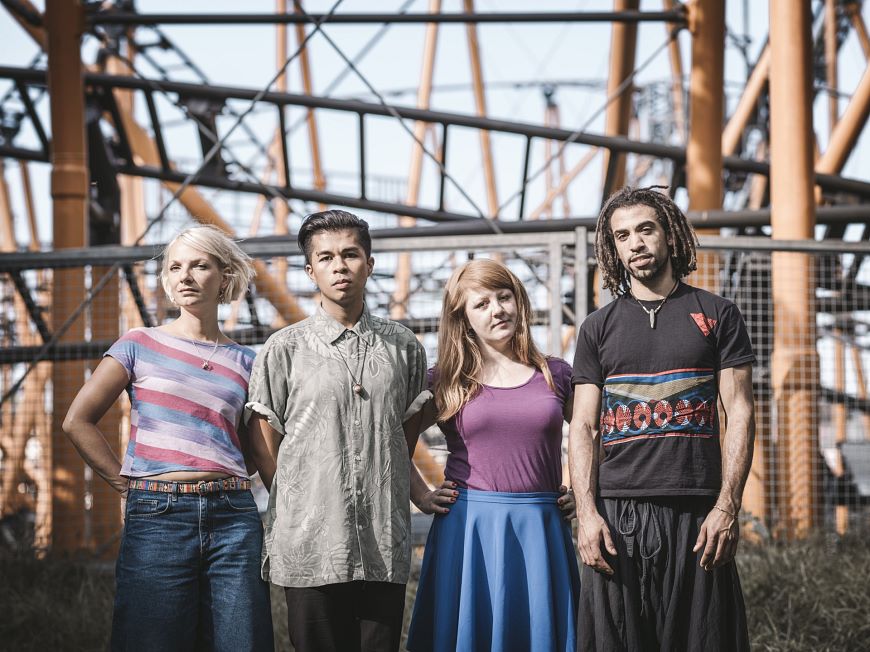 What do aliens, living bronze statues and a giant flamingo do in Kufstein?
Living street art has always been part of KUFSTEIN unlimited. Last year, there were flamenco dancing antelopes and men with goldfish aquariums on their heads and this year's walking acts surprise with dangerous-looking aliens, bronze figures, summer stilt-walkers and a gigantic flamingo. This flamingo is indeed pink, but that's the only thing he has in common with the natural role model. He does not stand on one leg, nor walk through Kufstein's waters. But he rolls through the streets and grabs with his huge beak for everything that catches his eye. Especially hat wearers should beware of the curious bird!
The Street Artists:
Men-Alien
Naranja - Summer Stilt Theater
Pink Flamingo
Potluck - Living Bronze Statues
Family-friendly festival and chill-out-zone
Unlimited entertainment for the whole family in the Kufsteiner city park. Also youngsters should have fun on these three days. Again, the popular bungee jumping as well as classic attractions such as slides and bouncy castles are part of the programme. A giant dartboard will be provided for all "gun-friendly" visitors. The chill-out-zone at the Fischergries, which was introduced last year, has proven its worth, and will be available to the same extent again in 2018.

Returnable cup system to be continued
With the project "Less is more" , initiated in 2017, a considerable contribution to reducing waste was achieved. Its success proved the organizers right. Thanks to many committed supporters, the total demand for reusable cups was financed by a donation of €9,086. In 2018, the organizers want to continue this sustainable project. The participating catering companies will continue the use of returnable cups.